Video color and brightness correction overview
Sometimes videos may have wrong brightness levels and color. Video may be too dark or too bright and the colors may be too dull or over saturated. This is common for analog TV captures. The color temperature may be too "cool" (green-blue) or too "warm" (yellow-red). There are several VirtualDub filters which can be used in Video Enhancer to correct the video similar to tools availabe in photo editing programs. Below are described most interesting of them and examples of their work are given.
Brightness & Contrast
Adjust Brightness and Contrast filter by Emiliano Ferrari.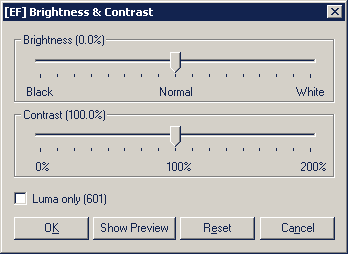 This filter will adjust brightness and contrast levels in the video. Just drag the slider right to increase values and left to decrease. When brightness is increased the contrast should also be increased to compensate changes. There is also an option which will adjust the luma channel only.

23% brightness
140% contrast
Gamma Correction
Gamma Correction filter by Emiliano Ferrari.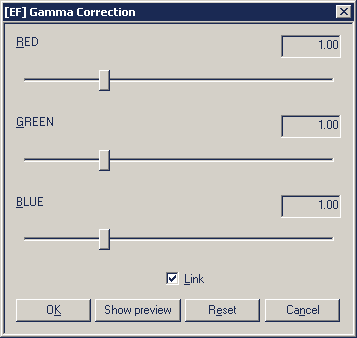 This filter adjusts gamma value of video. Red, Green and Blue colors can be adjusted independently. Higher gamma values will make the video brighter. Maximum gamma value for this filter is 4.00.
| | |
| --- | --- |
| | 1.50 gamma |
Hue/Saturation/Intensity
Hue/Saturation/Intensity filter by Donald Graft.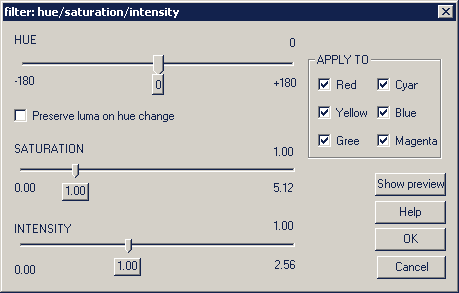 This filter adjusts hue, saturation, and intensity of video. The saturation setting is useful for adjusting video with too much colors. When increasing the intensity, the saturation may be decreased to compensate it. Specific color range can be selected.

saturation 0.60
intensity 1.60
Red/Green/Blue Adjust
Red/Green/Blue adjustment filter by Donald Graft.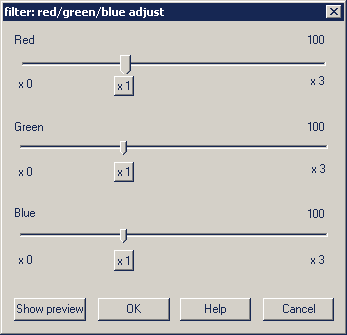 This filter adjusts red/green/blue colors of video. Maxium value is 300%. When all the colors are adjusted at the same time, the effect is similar to adjusting intensity levels.
| | |
| --- | --- |
| | red 80%, green 100%, blue 110% |
Color Balance
Color Balance filter by Emiliano Ferrari.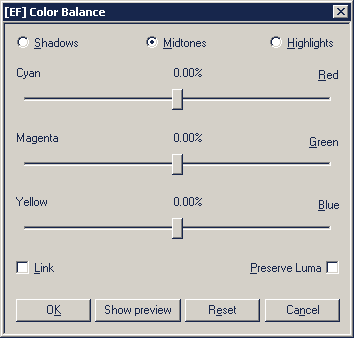 This filter adjusts red/green/blue color balance of video. Settings for shadows, midtones and highlights can be adjusted independently. Option for preserving the luma channel and adjusting only chroma channels.

midtones red 50.00%
preserve luma
Saturation
Saturation filter by Emiliano Ferrari.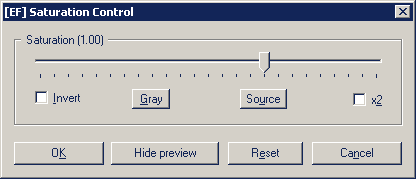 This filter adjusts saturation of video. Supports negative saturation value for interesting effect. Also has invert option making the video negative in color. Maximum setting is from -2.00 to 4.00 when x2 option is enabled.
| | |
| --- | --- |
| | invert |
Curves
Gradation Curves filter by Alexander Nagiller.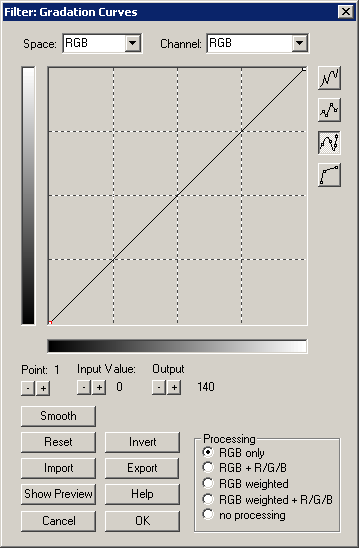 This versatile filter supports adjusting the video using curves. Adjustments can be made in several color space and supports export and import of curves settings from paint programs. An extensive tutorial of this filter can be found at their web page.

space RGB, channel RGB
point 2 value: input 150 - output 220
Color Mill
Color Mill filter by Eugene Khoroshavin.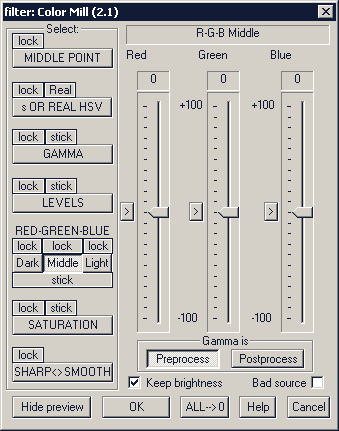 This advanced filter supports several color adjustments all in one filter.

gamma stick 20
levels middle 10
red middle -10
saturation stick 10
Auto Levels
AutoLevels filter by Livio Cicala.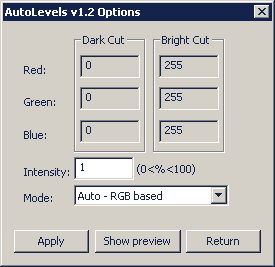 This filter automatically adjusts RGB levels in video. Based on the "Auto Levels" function of ACD Photo Enhancer in ACDsee. Useful filter for correcting dark and saturated videos.
| | |
| --- | --- |
| | intensity 2 |
Auto White Balance
ACOBW filter by Sergey Stolyarevskiy.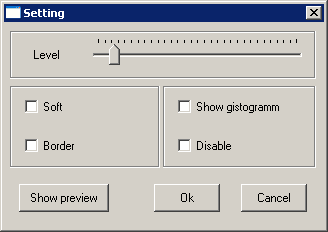 This filter automatically corrects white balance in video. Option showing histogram of each color and how they are relateively adjusted.

level 100
show histogram
Auto Brightness & Contrast
MSU SmartBrightness filter by MSU Graphics & Media Lab.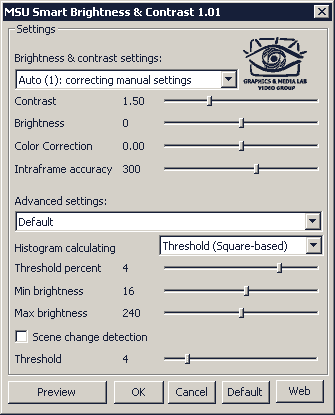 This filter automatically adjusts brightness and contrast in video. The filter will try to avoid clipping of colors and avoid too high intensity levels. Provides many different presets and scene change detection.

default settings
scene change detection